VHV Anlagenbau GmbH
Innovative conveyor systems from Hörstel, Germany
VHV Anlagenbau GmbH was formed in 1995 in Hörstel, Germany, by Bernhard Veltmann, Georg Hagemann and Bernhard Verlage. We have since made a name for ourselves on the international market as a mid-sized enterprise focusing on the development, design and production of innovative conveyor systems,
and are now one of the market leaders in the belt conveyor sector – and for innovative steep incline conveyor systems in particular. Our systems are now in use around the world in virtually all industries that need to move bulk materials such as stone, minerals and ceramics, as well as in the recycling and reprocessing sector. Smooth belts can be used here to move material up very steep inclines and, depending on type, even vertically upwards to a height of 40 metres.
The success of these belt conveyor systems results from the economical and flexible applications they offer our customers.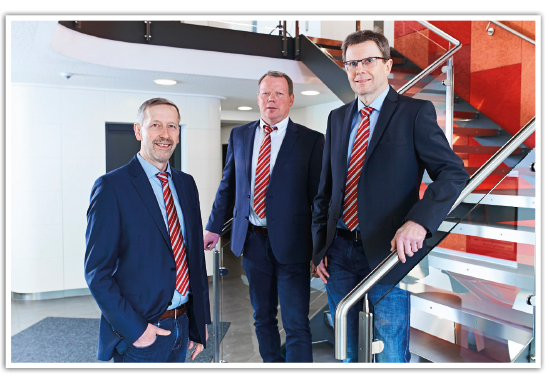 Founders of VHV Anlagenbau
Bernhard Veltmann, Georg Hagemann, Bernhard Verlage (l. to r.)
Our innovative conveyor systems offer tailor-made solutions within a space-saving design while keeping our customers' production facilities neat and tidy. From single systems to entire plants, we support our customers from the start to achieve designs that are exceptionally efficient.
Contact us today to learn more about our impressive reference projects.
Welcome
We look forward to your visit
How to find us
Dornierstr. 9 · 48477 Hörstel
Call us today
+49 (0) 54 59/93 38-0
Drop us a line to find out how
We can help you realise your project. We're at your service!